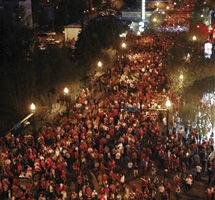 17th Ave is a popular avenue in Calgary. It has a number restaurants, bars, and shopping outlets. During the 2004 playoff run of the Calgary Flames, it became known as the Red Mile. This came from the large number of people wearing red Flames jerseys flowing to the street to celebrate after each vicory.
Some of the restaurants of 17th Ave include:
External links
Edit
Ad blocker interference detected!
Wikia is a free-to-use site that makes money from advertising. We have a modified experience for viewers using ad blockers

Wikia is not accessible if you've made further modifications. Remove the custom ad blocker rule(s) and the page will load as expected.