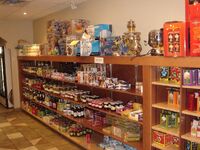 Atlas Specialty is a downtown Persian restaurant and supermarket. They bill themselves as "Calgary's premier kabab house". Their dips & spreads made FFWD's Linda Chavich's top 25 best things to eat in the city.
Visiting this restaurant is a little like accepting an invitation to dinner at someone's home: the restaurant dining area gives that impression of being in a very large family dining room. This impression is bolstered by the spotless white linen table cloths and comfortable armchair seating; by the generous spacing between tables; and by the family groups of diners at other tables.
The menu was short: with appetizers and salads for starters followed by a choice between stews, kebabs and wraps for the main course. However the food was very well presented and looked extremely appetising when it arrived. Consumption confirmed that it was also tasty and filling. We finished the meal with saffron ice-cream. This is made on the premises and has an unusual but very pleasant flavour. Talking of unusual flavours, the adventurous may want to try the doogh. This is a carbonated sour milk/yoghurt drink, almost savoury rather than sweet. The combination is refreshing to say the least; in fact breathtaking might be nearer the mark. I loved it.
The service was a team effort, friendly, fast, and well up to standard. The price at $20 per head including drinks was good value.
Persian food has the virtue of being exotic without being so extreme that it is likely to upset those who dislike overly spicy food. So I would recommend this restaurant not only to those who know that they like Persian food but also to those who don't normally eat "foreign food" but would perhaps like to try something a little out of the ordinary. -- Derek Ross 05:44, 27 February 2006 (UTC)
Ad blocker interference detected!
Wikia is a free-to-use site that makes money from advertising. We have a modified experience for viewers using ad blockers

Wikia is not accessible if you've made further modifications. Remove the custom ad blocker rule(s) and the page will load as expected.