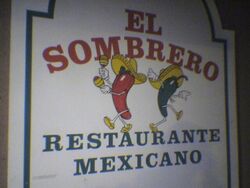 El Sombrero Restaurante Mexicano is a Mexican restaurant on 17th Ave. According to the 2004 (jobs, well more so in the early part) FFWD poll, El Sombrero is the best Mexican restaurant in Calgary. Mexican food in Alberta says something about society.
Upper level, 520 - 17 Ave SW Online map
Reservations: (403) 228-0332
Tue-Fri: 11:45AM-2:00PM
Mon-Thur: 5:00PM-10:00PM
Fri-Sat: 5:00PM-11:00PM
Sun: 5:00PM-9:00PM
Delivery/Take Out
Edit
Phone/fax: 228-0540
Delivery is available for supper time for a charge of $2.50 within 5km of the restaurant.
The last time I had Mexican food in Canada, I had leakage out of both ends.
Ad blocker interference detected!
Wikia is a free-to-use site that makes money from advertising. We have a modified experience for viewers using ad blockers

Wikia is not accessible if you've made further modifications. Remove the custom ad blocker rule(s) and the page will load as expected.