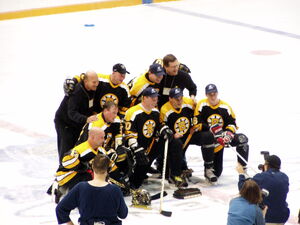 The ninth annual Esso 3 on 3 Pond Hockey Tournament was held on January 22, 2005 at the Stampede Corral. This is an annual fundraiser for Calgary's minor hockey where NHL alumni form teams and compete in a fast paced 3 on 3 tournament. It also kicks off minor hockey week. It was originally started by Calgary Flames alumni Colin Patterson and Perry Berezan in 1997. The players are also available during autograph sessions.
Morning (10:00AM-1:00PM): $6 - 6 games
Afternoon (2:00PM-4:30PM): $8 - playoffs and final
Tickets were available from Ticketmaster or local minor hockey associations. Minor hockey teams keep half of the proceeds of the tickets they sell as a team fundraiser.
External links
Edit