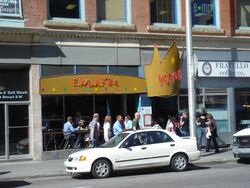 Falafel King is a Mediterranean restaurant downtown. As you watch the production line, you will notice that most customers order one of their fresh pita sandwiches: chicken, beef or mixed shawarma or a falafel. Each of these sandwiches comes with a slice of baklava.
If you are interested in a cool dessert after your meal, you can go two doors down to Fiasco Gelato.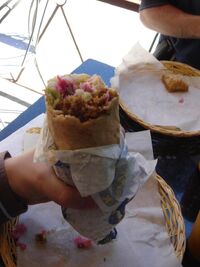 803 - 1st St SW See online map
Calgary, AB T2P 7N2
(403) 269-KING (5464)
fax: (403) 269-5474
Monday-Saturday: 11:00AM-9:00PM
Sunday: 11:00AM-5:00PM.
External link
Edit
This is my favourite restaurant. The best falafel and shawarmas I have had. And you can not beat the price. -- JamesTeterenko 15:33, 5 Dec 2004 (PST)
I would also add that this is a must stop place to eat. New comers to town, or visitors really should not miss this place, their schwarma's are awesome. Super friendly owner as well :) --oddroot 19:26, 19 January 2007 (UTC)
Ad blocker interference detected!
Wikia is a free-to-use site that makes money from advertising. We have a modified experience for viewers using ad blockers

Wikia is not accessible if you've made further modifications. Remove the custom ad blocker rule(s) and the page will load as expected.