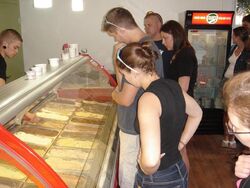 Fiasco Gelato sells Italian gelato, sorbetto, paninis, and coffees (made with Illy espresso).
Locations
Edit
Fiasco Gelato
Edit
403-452-3150
www.fiascogelato.ca
External link
Edit
Fiasco Gelato no longer has retail store fronts, but sells through premiere restaurants, cafes and groceterias. Not to be confused with Amato Gelato
Prior to 2004, one of my biggest beefs with Calgary was the lack of good gelato. This hole has now been filled by Fiasco. -- JamesTeterenko 16:23, 5 Dec 2004 (PST)
Ad blocker interference detected!
Wikia is a free-to-use site that makes money from advertising. We have a modified experience for viewers using ad blockers

Wikia is not accessible if you've made further modifications. Remove the custom ad blocker rule(s) and the page will load as expected.