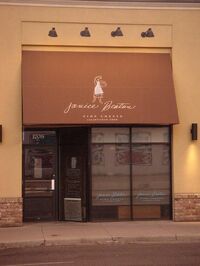 Janice Beaton Fine Cheese is a cheese shop in Lower Mount Royal. They have a wide variety of cheeses, from local producers to Canadian and international cheesemakers. They also carry a wide selection of pates, olives, baguettes and other gourmet accompaniments. Janice Beaton Fine Cheese offers wine and cheese tasting sessions, catering services as well as, corporate and personal gifting.
Locations
Edit
Mount Royal
Edit
1017 16 Avenue SW Online Map
Mon - Fri 10am to 7pm,
Sat 9am to 6pm
Closed on public holidays.
Kensington Location: Moved as of September 2009
Edit
Go to 1017 - 16 Avenue SW
403.229.0900
External links
Edit
Ad blocker interference detected!
Wikia is a free-to-use site that makes money from advertising. We have a modified experience for viewers using ad blockers

Wikia is not accessible if you've made further modifications. Remove the custom ad blocker rule(s) and the page will load as expected.