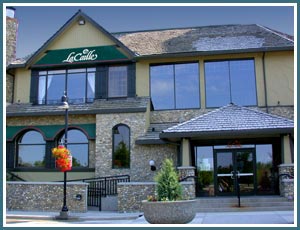 LaCaille On The Bow is a fine dining restaurant near Prince's Island Park.
Whether you plan for a romantic dinner by the fireplace, organize a corporate dinner in The Manhattan Room or plan an office gathering in the Boardroom, LaCaille can offer a multitude of rooms, menu selections and award winning to complement your event.
100 La Caille Place SW online map
Phone: (403)262-5554
Open Monday - Friday for lunch and Monday - Saturday for dinner. And with the exception of special events and some holidays, we are closed on Sundays and holidays.
External links
Edit
Ad blocker interference detected!
Wikia is a free-to-use site that makes money from advertising. We have a modified experience for viewers using ad blockers

Wikia is not accessible if you've made further modifications. Remove the custom ad blocker rule(s) and the page will load as expected.