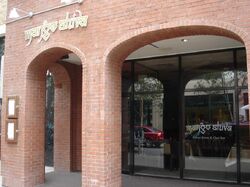 Mango Shiva is a contemporary Indian restaurant located in Penny Lane. The Thai chef mixes Indian favourites with other worldly cuisine. The menu features items such as tandoori salmon and crab samosas. During weekdays, they have a very popular lunch buffet.
In March of 2007 Penny Lane Mall closed. Mango Shiva no longer exists at this location, though it is moving down 8th Avenue, across from Flame Central.
507 - 8 Ave SW Online map
Phone: (403) 290 1644
External links
Edit
Ad blocker interference detected!
Wikia is a free-to-use site that makes money from advertising. We have a modified experience for viewers using ad blockers

Wikia is not accessible if you've made further modifications. Remove the custom ad blocker rule(s) and the page will load as expected.