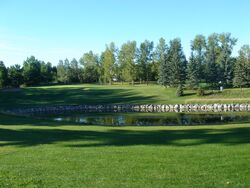 Maple Ridge is an 18-hole municipal golf course near Deerfoot Trail and Anderson Road. The golf course plays to a par 72. Four tee boxes per hole are available. The yardage is 6576 yards from the back tees. The 17th hole - at 481 yards from the tips - is one of the city's longest par fours.
Bookings can be made up to four days in advance through the municipal tee-time line at 221-3510.
1240 Mapleglade Dr SE online map
Clubhouse Phone: (403) 974-1825
Tee Times Phone: (403) 221-3510
External links
Edit
Ad blocker interference detected!
Wikia is a free-to-use site that makes money from advertising. We have a modified experience for viewers using ad blockers

Wikia is not accessible if you've made further modifications. Remove the custom ad blocker rule(s) and the page will load as expected.