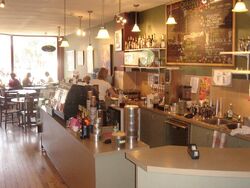 Oolong Tea House is a coffee and tea shop in Kensington and McKenzie Towne. They offer over 150 loose leaf teas from all over the world. White Tea, Green Tea, Oolong Tea, Black Tea, Rooibos, Yerba Mate, Fruit and Herbal Infusions.
Kensington: 110 - 10 St NW Online map
phone: (403) 283-0333
This is my favourite place to buy tea. They have a wonderful selection from around the world, and I have yet to be disappointed. -- JamesTeterenko 17:12, 4 Nov 2005 (UTC)
The Kyoto Cherry Rose is to die for! And the English Breakfast is splendid with cream! -- Anonymous user
One of the few places in Calgary where you can get Assam, Ceylon, Darjeeling or other decent teas. -- Derek Ross 05:39, 17 May 2007 (UTC)
The Oolong has a wonderful ambience and is a worthwhile stop when in Calgary! Anonymous
It is not only the place to buy a tea but they also have delicious cakes and other goodies... (Ivona)
Ad blocker interference detected!
Wikia is a free-to-use site that makes money from advertising. We have a modified experience for viewers using ad blockers

Wikia is not accessible if you've made further modifications. Remove the custom ad blocker rule(s) and the page will load as expected.