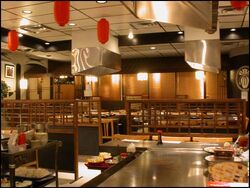 Sakana Grill is more than just a meal. You could almost call the Sakana four restaurants in one as they offer a Sushi Bar and Sushi Boat service, as well as Teppanyaki and other authentic Japanese cuisine.
The food is amazing, the staff are wonderful and friendly and the ambience is fantastic.
Locations
Edit
Main Floor, 116 2nd Ave. SW Calgary, Alberta T2P 0B9 map
Telephone: (403) 290-1118

8 Crowfoot Circle NW Calgary, AB T3G 2T3 map
Telephone: (403) 208-9799
Hours: 11:00am - 2:00pm 5:00pm - 11:00pm Sunday - Thursday 5:00pm - 12:00am Friday - Saturday
External links
Edit
[1] www.smilingegg.com
Ad blocker interference detected!
Wikia is a free-to-use site that makes money from advertising. We have a modified experience for viewers using ad blockers

Wikia is not accessible if you've made further modifications. Remove the custom ad blocker rule(s) and the page will load as expected.