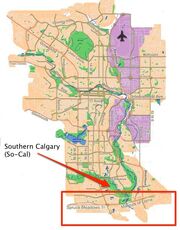 This article is about specific communities located in the south of Calgary in the province of Alberta,Canada collectively known as Southern Calgary (So-Cal). It does not cover all communities from the quadrants Southwest and Southeast of Calgary.
Southern Calgary or So-Cal is the southern part of the City of Calgary in Alberta, Canada. Though Calgary is officially demarcated into four quadrants Northeast, Northwest, Southeast and Southwest and consists of 184 communities, So-Cal is composed of six young and thriving communities namely Auburn Bay, Chaparral, Cranston, Mahogany, Silverado and Walden. The area is located south of the Marquis of Lorne Trail and bordered by the Spruce Meadows Trail to the north, Deerfoot Trail to the southeast, and the Macleod Trail in the southwest.
So-Cal, being young, is undergoing development in terms of infrastructure which consists of various housing, road, and transit projects.
Demographics
Edit
Based on the 2009 City of Calgary's Civic Census, So-Cal's population was 25,774, which is a measly 2.42 percent of the city's total population of 1,065,455 persons. However, Silverado was among the only two communities in Calgary which grew by more than 100%. Auburn Bay and Cranston were also among the top 10 high growth communities in the 2008-2009 Census. All these communities had population increase of more than 1,000 persons.

Southern Calgary (So-Cal) Population by Community: 2008 and 2009
Community
2009
2008
% Increase/
Decrease
Auburn Bay
3,466
2,324
49.14
Chaparral
10,537
9,651
9.18
Cranston
9,140
7,878
16.02
Mahogany
11
na
na
Silverado
2,620
1,308
100.31
Walden
na
na
na
Total
25,774
21,161
29.11
Source: http://www.calgary.ca/
Of the almost ten thousand dwellings built in So-Cal, 62.07% are occupied. Of these, majority (83.86%) are single family houses followed by duplexes (6.28%), town houses (5.27%), apartments (4.38%) and others (0.21%).

Southern Calgary (So-Cal) Number of Dwellings and Occupancy Rate by Community: 2008 and 2009
Community
Single
Family
Duplex
Apartment
Town House
Others
Total No. of Dwellings
Total No. of Occupied Dwellings
Occupancy Rate
Auburn Bay
1,213
8
0
76
1
1,298
1,150
88.60
Chaparral
2,771
242
193
260
0
3,466
3,273
94.43
Cranston
2,920
198
220
99
15
3,452
3,288
95.25
Mahogany
42
2
0
0
2
46
4
8.70
Silverado
930
120
0
62
1
1,113
928
83.38
Walden
27
22
0
0
0
49
1
2.04
Total
7,903
592
413
497
19
9,424
8,644
62.07
Source: http://www.calgary.ca/
Schools in So-Cal, like the rest of Calgary communities, generally fall under the Calgary Catholic School District (CSSD) and the Calgary Board of Education (CBE). Designated schools per community are at times similar.
Transportation
Edit
Transportation routes in So-cal include: Route 406 (Auburn Bay), Route 78 (Sundance/Chaparral), Cranston: Route 14 (Bridlewood/Cranston), Route 133 (Cranston Express via Deerfoot Trail and SE BRT Route), and Route 402 (Silverado).
References
Edit
City of Calgary (2009). "Civic Census"
City of Calgary (2009). "Community Profiles"
Calgary Transit (2009). "Routes and Maps"
Ad blocker interference detected!
Wikia is a free-to-use site that makes money from advertising. We have a modified experience for viewers using ad blockers

Wikia is not accessible if you've made further modifications. Remove the custom ad blocker rule(s) and the page will load as expected.