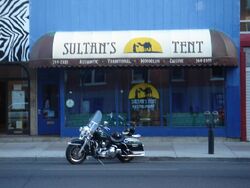 The Sultan's Tent is a Moroccan restaurant that was for many years on 17th Avenue NW but is now on 14th Street NW. Although it looks like an ordinary restaurant from outside, it is very unusual inside both in its nomadic decor which will almost make you believe that you are sitting in a tent and in its Moroccan style service which differs markedly from normal Canadian practice, dispensing with items such as cutlery for instance. The overall result is to provide an unusual but enjoyable evening which could nearly convince you that you were in the casbah of Tangiers, rather than in the heart of Calgary. Warning: this restaurant is small and popular -- a combination which implies that you will need to make a reservation most nights of the week. This must be super hard to eat at when the economy doesn't suck.
New Location
Edit
The Sultan's Tent is now located at 4 14 Street NW, Calgary.
Seven days a week 5pm- 11pm
Ad blocker interference detected!
Wikia is a free-to-use site that makes money from advertising. We have a modified experience for viewers using ad blockers

Wikia is not accessible if you've made further modifications. Remove the custom ad blocker rule(s) and the page will load as expected.