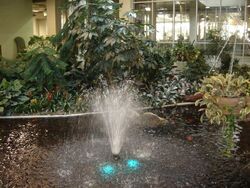 TD Square is a mall in downtown Calgary. Along with Eaton Centre and Scotia Centre, it is promoted as The Core.
With anchor stores of Harry Rosen, Birks Jewelers and The Gap, TD Square is geared more towards customers with a bit more than average to spend.
Along with various shopping, TD Square houses the Devonian Gardens.
317 7 Ave SW online map
Customer service: (403) 206-6490
External links
Edit
Ad blocker interference detected!
Wikia is a free-to-use site that makes money from advertising. We have a modified experience for viewers using ad blockers

Wikia is not accessible if you've made further modifications. Remove the custom ad blocker rule(s) and the page will load as expected.