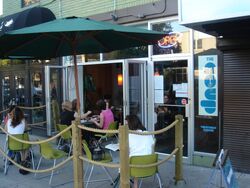 The Coup is a small vegetarian restaurant on 17th Ave run by Dalia Kohen and Tabitha Archer. Opened on November 25, 2004, they use organic and local produce when possible. Environmentally friendly customers who bring their own take home container for left-overs get a discount on their meal. This restaurant is licensed and offers some innovative alcoholic and non alcoholic beverages. They do not take reservations and often by 5:30 or 6:00pm there are a number of people waiting on the couch or at the door to get a table. The Coup topped FFWD's Best of Calgary 2005 for best new restaurant and best vegetarian restaurant.
924B 17 Ave SW Online map
(403) 541-1041
Tue-Sun: 11:30AM-2:30PM; 5:00PM-"until the last person leaves"
External links
Edit
Ad blocker interference detected!
Wikia is a free-to-use site that makes money from advertising. We have a modified experience for viewers using ad blockers

Wikia is not accessible if you've made further modifications. Remove the custom ad blocker rule(s) and the page will load as expected.