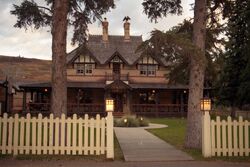 The Ranche is a high-end restaurant in Fish Creek Park. It is in an old ranchhouse built by William Roper Hull in 1896. It specializes in Alberta raised meat and produce.
15979 Bow Bottom Tr SE Online map
Calgary, AB T2P 0Y8
Phone: (403) 225-3939
Fax: (403) 225-3959
Mon-Thu: 11:30AM-9:00:PM
Fri: 11:30AM-10:00:PM
Sat: 5:00PM-10:00:PM
Sun: 10:30AM-2:30PM; 5:00PM-9:00:PM
External links
Edit
Ad blocker interference detected!
Wikia is a free-to-use site that makes money from advertising. We have a modified experience for viewers using ad blockers

Wikia is not accessible if you've made further modifications. Remove the custom ad blocker rule(s) and the page will load as expected.