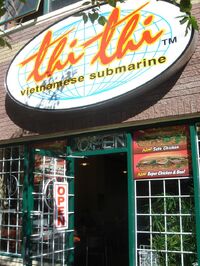 Thi Thi Sub is a Vietnamese restaurant with two locations: one on 8th Avenue and the other in Chinatown.
Original location:
Second store:
Mon-Fri: 11:00AM-6PM
Sat: Noon-5:00PM
External links
Edit
This is the Vietnamese Sub that all others wish to be! The Sate Beef is a pleasure to the palate. But be wary of the hot peppers. There is not a bad sub on the menu....except the Vegetarian, and it's only bad cause it has no meat! But it will do when short of funds as it's only $2.50. (preceding unsigned comment by 208.38.52.98 18:20, 6 Sep 2005 (UTC))
Ad blocker interference detected!
Wikia is a free-to-use site that makes money from advertising. We have a modified experience for viewers using ad blockers

Wikia is not accessible if you've made further modifications. Remove the custom ad blocker rule(s) and the page will load as expected.